How to issue an invitation and what is it exactly? Regardless purposes of a trip, foreign national can't go to Russia without the document that gives him the right to apply for a visa. This document is an invitation.
What is an invitation
Pay attention! To make an invitation for a foreigner you need to know his personal data as well as information about purposes, timing and duration of the visit.
Issuance of an invitation gives a foreign national the legal right to apply to consular authorities in his country so that he can obtain a visa in due course.
How to issue
How to issue an invitation and where to start? You need to: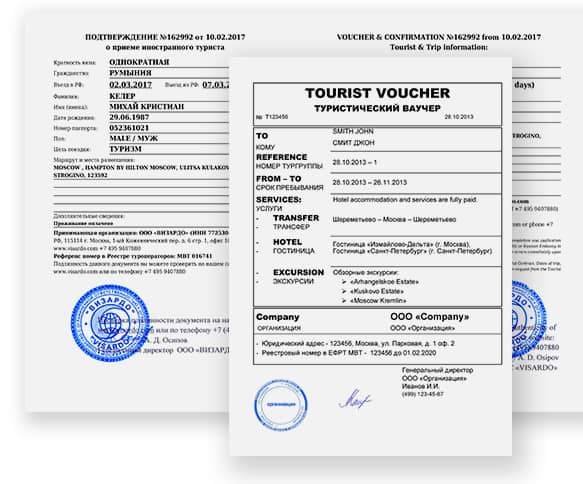 Get tourist visa
invitation for €19
The variant above is applicable for a private travel. How to issue an invitation to Russia for a person who plans to work in the country? This process is much harder. It includes:
Harmonizing the migration quota and notification to a local employment agency of an intention to issue an employment contract with an external specialist

Getting (in AFMS) a permission to work and registration as an employer who recruits foreigners

Applying for an invitation
Thus, to issue an invitation to Russia for a foreigner you need to form a package of documents and apply to AFMS.
The cost of an invitation
Tourist visa invitation cost — 19 eur. (order online in 5 minuts)
Private visa invitation cost — 23 eur.
Pay attention! If you plan to meet your relatives or to travel through country we advise you to issue a tourist visa instead of the private one. It's simplier, faster and cheaper.
If you still want to issue a private visa, you will need:
Your valid passport
2 copies of the application form, filled out and signed
1 photo for visa (made recently)
Formal notification from the local FMS of Russia
When applying to AFMS in addition to the request and other documents you need to provide a receipt for the contribution of state customs. It costs 800 rubles for one form (data for 2017).
Accordingly, the cost of an invitation for 2 and more foreigners requires a proportional increase of the cost indicated. If you apply to an electronic portal of public services, it will cost you 800 rubles.
Where to issue an invitation
Where to issue an invitation for a foreigner to Russia if he plans a tourist trip? In such case, all the paperwork will lay on the company that provides him with tourist services. The foreign national gets in his hands an invitation that includes a voucher and a confirmation of the accommodation in the territory of Russia.
Where to make an invitation for a foreigner if he goes to a business trip or plans to work in Russia? All the documents will be issued by organizations, which recruit external specialists. The issuance is carried out by FMS authorities.
Who issues an invitation to Russia for a private person? You can make it through AFMS authorities but we recommend you not to apply for a private visa since it's a very difficult and time-consuming process. The simplest way is to obtain a tourist or a business visa.
Documents
To make an invitation to Russia for a foreign citizen you need the following documents:
Passport data

Information of duration of the trip as well as the place of residence