The presence of visa allows you lawfully visit foreign countries for different purposes. How much does the Russian visa cost? Where to start if you want to obtain it? The answers to these questions you can find in the article below.
Russian visa for Italian nationals
The migration legislation of the RF offers foreign nationals different ways to issue a visa. The order and conditions of the appliance to the consulate will be almost the same for any visa type.
Before applying for a visa you need to define purposes of your trip alleged. Nowadays there are several goals that Italian national can achieve by visiting Russia:
Business (negotiations, signing contracts, creation of business structures in the territory of the RF)

Participation in Russian educational program (any level or degree)

Private visits to relatives

Employment in Russian companies

Different types of tourism
The issuance of visa (any type) falls within the jurisdiction of Russian consular authorities located in Italy. You can obtain a visa after you provide the consulate with:
Profile (application) with the indication of purposes, timing, and duration of your trip

Colour photos of an Italian citizen

Medical insurance valid within the whole period of stay in Russia

Russian invitation issued by the receiving party

Valid passport of an Italian citizen

Receipt confirming the payment of a consular fee
Some types of visa may require extra documents (for example, work permission for a work visa).
Visa cost is determined by the consular fees
Single-entry visa issued by the ordinary procedure (4-20 days) – EUR 85

Single-entry visa issued by the fast-track procedure (1-3 days) – EUR 170
How much does it cost in cases of multiple visits? For a multiple-entry visa, the cost will be EUR 254 and EUR 508 respectively.
The value of Russian visa may also include the cost of services fees carried out by Visa Centers.
Russian tourist visa for Italian national
Tourist visa requires a tourist invitation. In this case entry permission won't exceed 30 days, however, Italian citizens can re-obtain visa or get a multiple visa.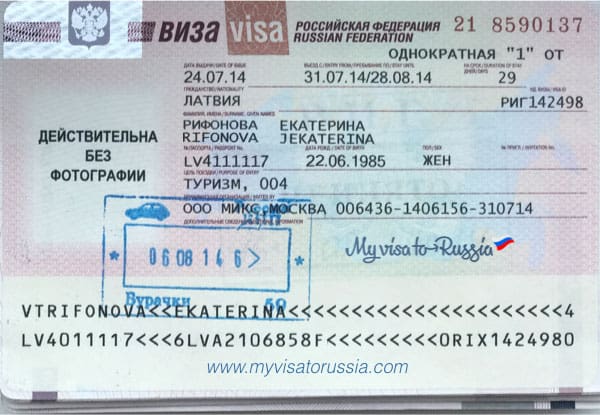 Tourist visa to Russia can be issued for the following purposes:
Traveling by personal car (by route declared preliminarily)

Medical or business tourism

Traveling as a part of an organized tourist group

Visit by 72-hours program (is available without an invitation from the receiving party)
Legal visa regime notes the obligation to register (in the AFMS local bodies or in the hotel). The violation of this rule may have serious consequences such as administrative fine, deportation, and even future refuse in cases of re-applying for a Russian visa (since the information about the infringer goes right to the Migration Service's database).
Visa issuance starts from obtaining an invitation from the receiving party. This document gives you the right to apply to the consulate for a tourist visa.
Arrangement of the tourist invitation to Russia for Italian citizens
Obtaining of an invitation is the key point for a tourist trip. Without it, you will not just get a denial of entry but your document package won't be considered.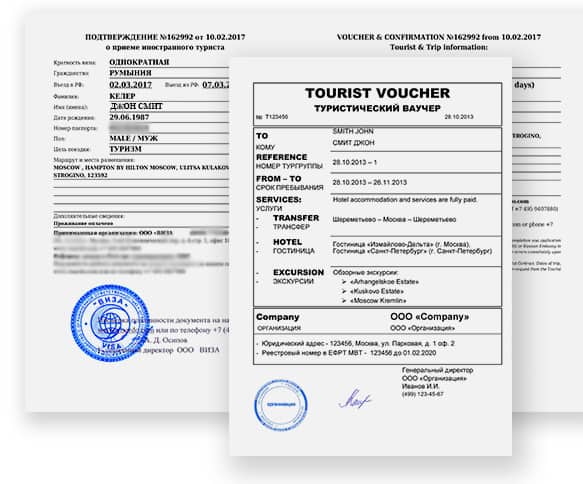 In reality, it is issued by a tour company that arranges your trip. The invitation consists of two documents:
Tourist voucher that proves the fact of using tourist services by a foreign national

Confirmation of receiving and residence that proves that a foreigner has a place to stay for the whole period of his/her trip
As a rule, the issuance of a tourist invitation starts the same time you buy a tourist voucher so that you can quickly apply for a visa to Russian consulate.
If you need to obtain such type of invitation quickly, please welcome to get our consultants' help. Our company will provide you with all the necessary documentation in shortest terms and accompany you on each stage of visa issuance. Fill in the feedback form or just call the hotline.
The information from your invitation will be used while filling out the profile in the consulate. So pay special attention to all its paragraphs.
Russian private visa for Italian nationals
What visa do you need if you plan to visit your relatives in Russia? This purpose will not provide you with a tourist visa so you need to apply for a private one. There are some special features that you need to take into account:
You need an invitation from a private person or organization taking care of your disabled relative

To arrange this visa you need to confirm your relationship with Russian citizen

Visa can valid up to 90 days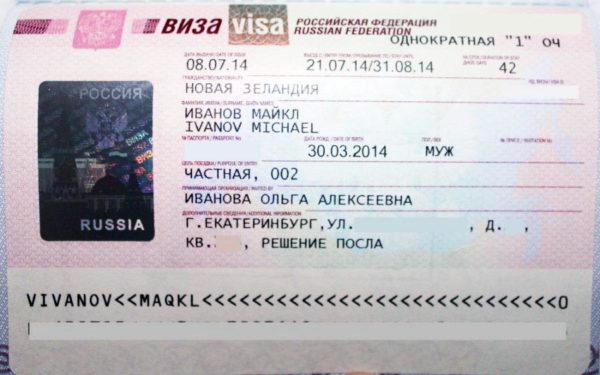 Italian nationals can't use private visa for realizing any other purposes (employment or business) since it will be considered as a breach of the migration legislation and entail the administrative liability.
Arrangement of the private invitation to Russia for Italian citizens
Private invitation from your relative gives a right to open a private visa for Italian nationals. In order to obtain it the receiving party needs to provide these documents:
Request for an invitation

Passport copies (both Russian and Italian parties)

Description of the visit's purposes, timing, and alleged route

Confirmation of the relationship

Obligation to secure medical and material insurance for a foreigner as well as a place to stay for the whole time of visit
The private invitation is issued in the official form of the AFMS; after all, it is sent to the relative in Italy as a copy or in original form. This document is the key point of your appliance to the consulate.
Our specialists can offer the full set of services connected with visa issuance including the arrangement of the invitation. We can guarantee that you obtain all these documents as soon as possible and get our help if needed.
Russian business visa for Italian nationals
Business trips and permanent contacts with business partners requires Russian business visa. The legal ground for the request for a visa, in this case, will be a business invitation from the Russian company.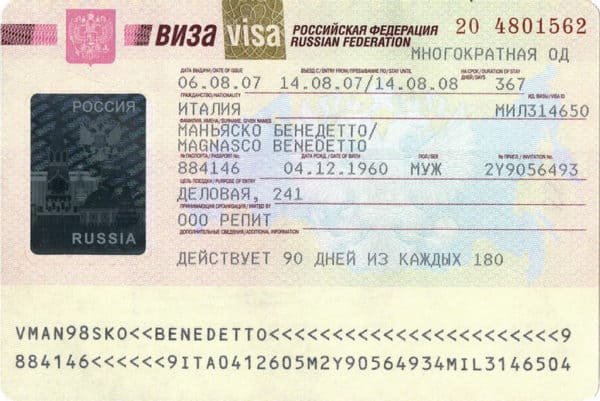 This visa is issued for a period up to one year (with an opportunity to prolong it to 3 or even 5 years). You can obtain an invitation by several variants depending on particular circumstances of your business partners.
To know details, conditions, and order of business visa issuance, we recommend you to apply to our consultants. We will suggest the most suitable option and help with all the formalities.
Arrangement of the business invitation to Russia for Italian citizens in a form of a letter
In order to make Russian visa for Italians, Russian receiving party has an opportunity to issue an invitation in its own form (but only if it has been preliminarily accredited in the Ministry of Foreign Affairs). Such accreditation can be useful when planning regular business contacts with foreign citizens.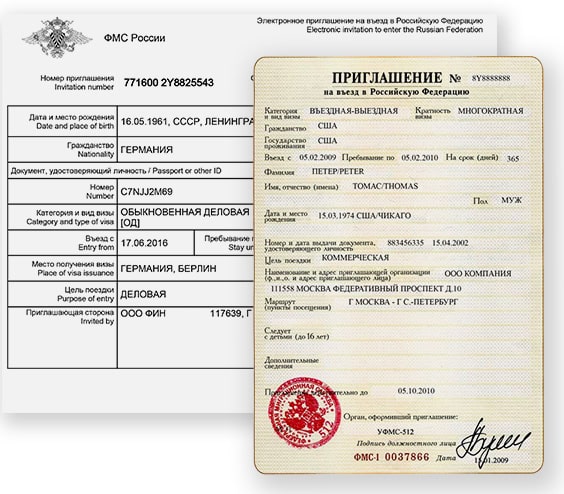 The issuance of an invitation as a letter from Russian company can be done within hours, after which an Italian national may legally apply for a permit to enter (to one of the Russian consulates). If you need to obtain an invitation quickly, ask for help from our experts. After getting all the information about purposes and personal data, your invitation will be issued the same day as the application and sent to the Australian national.
Arrangement of the business invitation to Russia for Italian nationals in the form of the AFMS
The standard procedure of getting a business invitation implies applying to the AFMS authorities. In this case an applicant provides a usual document package declaring purposes and timing of the alleged visit of Italian national.
After document verification, the business invitation will be issued in the form of the AFMS. This paper should be presented when you are applying for a visa to the Russian consulate.
Arrangement of the business invitation to Russia for Italian nationals by Telex
Another way of getting a business invitation is to use special diplomatic channel – Telex. In this case, the request to issue an invitation will be addressed to proper services of the MFA of the Russian Federation.
When using Telex the receiving party doesn't have to send a paper to a foreigner because it will go directly to consular authorities. The foreign national just has to provide the rest of visa documents.
If you need to obtain a business invitation by any of the ways described above, apply for help to our specialists. We guarantee the issuance of this document right in the day of your request – all you have to do is to provide us with the copy of foreigner's passport.
Russian work visa for Italian nationals
Employment in Russian companies may also be a reason to apply for a visa. The migration legislation of the RF contains some restrictions for the involvement of the foreign employees so the issuance has its difficulties.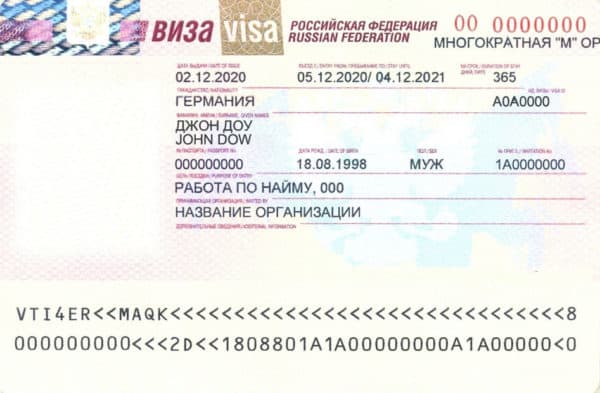 We can resolve all the problems with hiring an Italian specialist. Our consultants will provide legal assistance while you are obtaining work invitation and establishing an employment relationship with an Italian citizen.
Arrangement of the work invitation to Russia for Italian citizen
The procedure of getting a work invitation implies that Russian employer goes through required formalities:
Applying to the authorized bodies for confirmation of quota for invited foreign specialists

Notification to a local employment agency about hiring an external specialist

Registration in the AFMS as an employer hiring external specialist(s)

Issuance of work permit for a foreigner
After all this, an employer can apply to the AFMS for a work invitation. The duration of the work visa can be one year with an opportunity of prolongation.
In order to go through all it quickly and get a work invitation, ask our specialists for help. With our support, we guarantee you fast issuance of all the documents for an invitation for Italian citizen.
Russian Consulates in Italy
This system includes:
Consular Department in Rome

Consulate General in Genoa

Consulate General in Milan

Consulate General in Palermo
All the information on these authorities is presented below.
Embassy of the Russian Federation in the Italian Republic
Consular Department in Rome
Address:

Via Nomentana, 116, 00161, Rome, Italy.

Phone number:

(8-10-39-06) 442 35 625 – from 8.00 a.m. to 12.00 p.m. on weekdays

(8-10-39-06) 494 16 80; 494 16 81; 494 16 49 – from 7.00 p.m. to 8.00 a.m.

Fax:

(8-10-39-06) 4423-40-31.

Interactive call center:

(8-10-39-06) 9293-71-96.

E-mail: mail@rusconsroma.com
Web: www.rusconsroma.com
Reception hours:

From Monday till Friday, 8.00 a.m. – 11.30 a.m.

Appointment online:
Appointment by phone:

895-898-95-61 (only for internal calls in Italy).
Consulate General of the Russian Federation in Genoa
Address:

Via Ghirardelli Pescetto, 16, 16167 Genoa Nervi, Italy.

Phone number:

(8-10-39-010) 372-60-47, 372-63-04.

Fax:

(8-10-39-010) 374-13-61.

E-mail: consolatoru@tin.it
Web: www.rugenova.com
Appointment by phone:

(+39) 010-372-60-47,

(+39) 010-372-63-04 (every day from 5.00 p.m. till 6.00 p.m. except for weekend)

Reception hours:

Monday, Wednesday, Friday, 9.00 a.m. – 12.00 p.m.
Consulate General of the Russian Federation in Milan
Consulate General of the Russian Federation in Palermo