Before entering Russia, an Indian citizen must obtain a russian visa, in accordance with the purposes and dates of his journey. Using the services of the visa application center of the Russian Federation in India, IFS India (New Delhi, Mumbai, Chennai, Calcutta), you can apply for a required visa.
Memo
Visa type
Duration of stay
Purpose of the trip
The cost of your invitation
Tourism
Up to 30 days
Tourism, visits to family or friends, seminars, exhibitions, short-term events
~ 3800 INR
Business
Up to 1 year
Conducting business negotiations, meetings, long trips to relatives and friends, participating in conferences, searching for business partners, etc.
Private
Up to 90 days
Official invitation to relatives issued by Federal Migration Service of Russia

Difficult to obtain. We recommend tourist or business invitation instead.

~ 900 INR state duty
When submitting documents, it will be necessary to pay consular and service fees for the visa: 1300 INR + 1180 INR (single visa prepared within a period of 2-3 days)
If you are out of India at this time, you always have the opportunity to obtain a visa from the nearest Russian consulate in the country of your stay.
Russian Tourist Visa in India

When planning a short-term visit to Russia for visiting attractions, meeting friends or relatives, participating in exhibitions, auctions and other events, an Indian citizen must obtain a tourist visa in advance. This visa is issued for up to 30 days of stay in Russia and can be single or double.
Main documents for a russian tourist visa
Applicant's Passport + copy
A form completed on the website of visa.kdmid.ru
A recent color photograph of 3.5 x 4.5 on a light background
Confirmation of the tourist invitation from the official tourist operator (copy of voucher).
Get a tourist invitation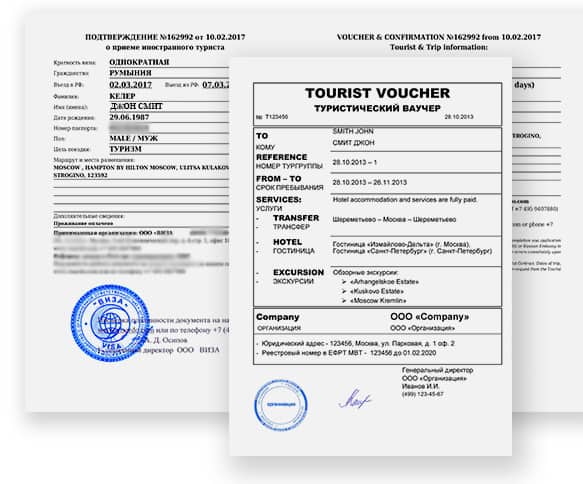 Order an official invitation by the Russian tourist operator from our company to travel to Russia for a short period of up to 30 days. Besides travel dates, details of the tour operator, and your Passport data, your invitation will contain the list of services included in your tour and the hotel of stay in Russia. If you have not yet determined the hotel to stay in the RF, or if you plan to live with friends or relatives, we will provide you with a reservation in the hotel of Russia for obtaining your Russian tourist visa. The invitation will be verified by the signature and seal of the tourist operator and sent to you electronically by email within 1 working day.
Russian Business Visa in India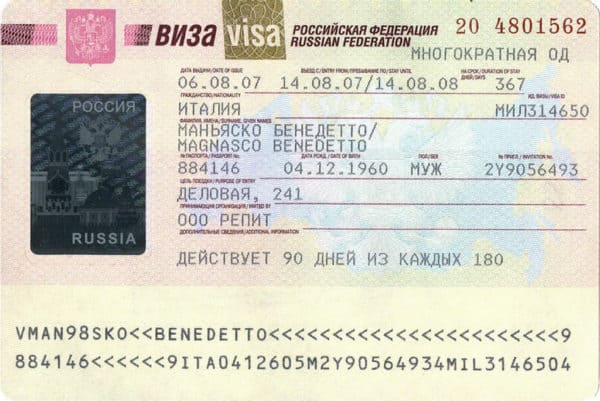 Citizens of India are issued a business visa for business trips to Russia to negotiate, search for business partners, participate in meetings, conferences, etc. for a period from 90 days to 1 year. A business visa may allow a single, double and multiple entry into Russia.
Main Documents for a Russian business visa:
Applicant's Passport + copy of it
A form filled on the website visa.kdmid.ru/
A recent color photograph of 3.5 x 4.5 on a light background
An invitation to enter Russia issued by the FMS.
Obtain the electronic business invitation eFMS: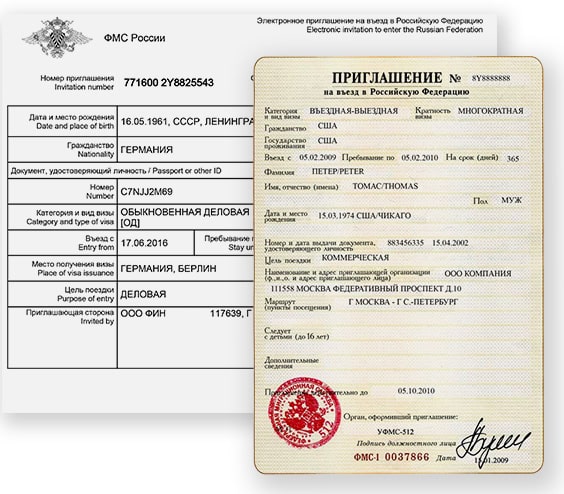 According to the new regulations introduced in 2015, the Russian Federal Migration Service has introduced an electronic version of business invitations.
Russian Private Visa in India
A private visa is usually granted for visiting relatives in Russia for a period of up to 90 days. A private visa allows a single or double entry. Before requesting a visa from the Russian Visa Center in India, you are required to obtain an official invitation from your relatives in Russia, issued by the FMS of Russia.
Main documents for a russian private visa:
An invitation for entry issued by the Russian Federal Migration Service.
An request prepared by your relative
Your valid passport;
        Application form filled in on visa.kdmid.ru
Documents confirming your family Relationships

Color photograph on a light background 3.5 x 4.5.
To have FMS issue you the necessary private invitation, the inviting relatives should provide:
Income Statement

Letter of Guarantee

Bank statement

Pay state duty of 800 rubles.
Since the issuance of a private visa is often a complicated and long-term process, we advise you to obtain a tourist or business visa instead. If you still have decided to obtain a private russian visa, you can do so by asking the inviting person to submit a requesr to the FMS organ of the RF at the address of his registration.
Addresses of visa centers and consulates of the Russian Federation in India
IFS India Visa Centre
New Deli
Address: 809-810, 8th Floor, Ashoka Estate, 24, Barakhamba Road, New Delhi-110001, INDIA
Phone: + 91 11 237 62 555
E-mail: info@india-ifs
Mumbai
Address: Dr. G. Deshmukh Marg (Peddar Road) 31-A, Mumbai, 400 026, India
Phone: + 91 704 5360766
Email: mumbai@india-ifs.com
Chennai
Address: Kascheri Estate, Alvarpet, Chennai, Tamil Nadu 600018, India
Phone: + 91 44 49365500
Fax: + 91 704 5360766
Email: chennai@india-ifs.com
Kalkutta
Address: Elgin, Calcutta, West Bengal 700017
Phone: + 91 33 40522700 + 91 33 4007 6777
Fax:  + 91 704 5360766
Email: kolkata@india-ifs.com
Consular Department of the Russian Embassy in India
Address in New Delhi:
Nyaya Marg, Chanakyapuri, New Delhi, 110021, India
Phone: + 91 (11) 2611-0560
Email: Indconru @ gmail Com
Site: rusembindia.com
Address in Chennai:
14, Santhome High Road, Chennai, 600004, India
Phone: + 91 (44) 24932-320, 24982-330
Email: ruschennai@yandex.ru
Site: www chennai.ru/
Address in Mumbai:
42, Jagmohandas Marg (Nepean Sea Road) Mumbai, 400006, India
Phone: + 91 (22) 2363-3627, 2,363-3628
Email: Consulate_mumbai@mail.ru
Site: rusconsulatemumbai.in/
Address in Calcutta:
22A, Raja Santosh Road, Alipore, Calcutta, India 700027
Phone: + 91 (33) 2479-7006
Site: www.kolkata.mid.ru/
Email: rus.consul.kolkata@gmail.com