Under the conditions of entry for citizens of foreign States into the Russian Federation by diplomatic, official (official, special), civil passports of 04.2016, citizens of South Korea have the right to enter Russia without visa and stay on its territory up to 60 days.
Memo:
Visa type
Duration of stay
Purpose of the trip
Cost of Invitation
Business
From 90 days to 3 years
Conducting business negotiations, meetings, long trips to relatives and friends, participation in conferences, looking for business partners, etc.
Private
Up to 90 days
Long and complicated process we recommend to apply for business instead

Officially formed at federal migration service invitation to relatives and friends

State duty: 800 rubles
If you are planning a trip that exceeds 60 days, you must obtain a visa to Russia. On the territory of the Republic of Korea, you may apply at the official Visa Application Center of the Russian Federation VFS Global, or directly at a consular department of the Russian Embassy.
To apply for Russian visa, a citizen of South Korea is required to pay fees involving the consular fee 108.000 KRW (for a single visa) and a service fee 36.000 KRW.
In the case of applying for Express visa ( processed within 1-3 working days), the consular fee is 216.000 KRW.
Business Visa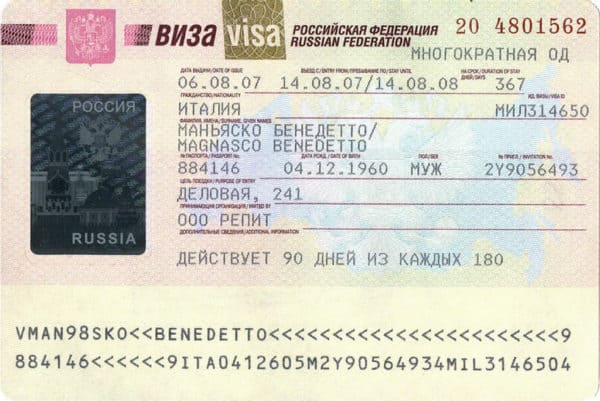 For business trips to Russia from 90 days to 1 year, you should obtain a business visa with single, double or multiple entry.
The cost of consular fee for multiple business visa is 648.000 KRW.
Main documents for Business Visa:
Your valid passport

Application completed on the site visa.kdmid.ru/

Two recent color photographs 3.5 x 4.5

An invitation on the official FMS form

Medical travel insurance valid on the territory of Russia
Obtain electronic business invitation eFMS
Since the end of 2015, the Russian Federal Migration Service has introduced a new form of business invitation send as an electronic document. 
Business letter of invitation from the Russian organization
Besides the FMS invitation, citizens of South Korea may obtain a business visa if they have an official letter of invitation from the Russian organization. The letter of invitation must be written on the company's official form and provided in a copy or original.
Private Visa
For private visits to relatives or friends in Russia, you can apply for a private visa. It allows to stay in Russia for up to 90 days, with the possibility of single or double entry.  Before applying for a private visa, you need to receive a FMS invitation issued by the Migration Service at the request of the inviting person.
Main documents for Private Visa:
An invitation issued by the Russian Ministry of Foreign Affairs or the relevant Russian Federal migration service. This invitation is issued on the basis of a request from: A citizen of the RF, a foreign citizen with a residence permit in Russia, a legal body.

Your valid foreign passport;

Application form completed on the site visa.kdmid.ru

Medical travel insurance policy valid in Russia
To provide you with a necessary private invitation the inviting party will have to present the following documents to the migration service:
Income Statement
Letter of Guarantee

Bank Statement

Pay state duty 800 rubles
We want to warn you that the process of receiving a private visa is rather complex and long, so we advise you to apply for a business visa instead. If you still have decided to get a private invitation, you can do so by asking the person who invites you to contact the FMS organ of the RF at the address of his registration
Addresses of visa centers and consulates of the Russian Federation in South Korea
VFS Global Visa Center
Seoul
5F Danam Building, 10 Sowol-Ro,
Jung-Gu, Seoul, South Korea
Phone:
070 4044 0789
Email: info.rukr@vfshelpline.com
Site:  www.vfsglobal.com/russia/SouthKorea/English/contact-us.html
Consular Department of the Russian Embassy in South Korea
Address:
04516, Republic of Korea, Seoul, Jung-gu, 11-gil, Seosomun-Ro, 43
Phone: (02) 318-2134 (Russian/English)
(02) 752-0630 (Korean)
Email: consotdel-korea@mail.ru