Before travelling to Russia, citizens of China must obtain a visa that corresponds to the objectives and dates of their journey. Documents for the Russian visa can be submitted at the Russian visa application centers of the on the territory of China in Beijing, Shanghai, Shenyang, Guangzhou and Hong Kong.
Memo:
Visa type
Duration of stay
Purpose of the trip
Cost of invitation
Tourism
Up to 30 days
Tourism, visits to family and friends, seminars, exhibitions, short-term events
Price of invitation 2990 Rubles.
Business
From 30 days to 1 year
Conducting business negotiations, meetings, long trips to relatives and friends, participating in conferences, searching for business partners, etc.
Private
Up to 90 days
Long and difficult to obtain, we recommend business or tourist instead.

Officially issued by federal migration service invitation to relatives and friends

State duty 800 rubles
In this article, we will discuss the main types of visas, the required documents, prices, and processing times.
Tourist Visa to Russia from China

You will need a tourist visa for a short trip of up to 30 days if you want to see Russia's sights, visit your friends and family, participate in seminars, conferences, and other events. This type of visa is fairly simple and fast to obtain allows a single or double entry into Russia.
When applying for a tourist visa, Chinese citizen must pay the consular fee: 345 RMB.
If you apply at the visa application center, you also have to pay service fee: 240 RMB
Standard processing time: 10 working days
For express visa which is processed within 3 days the consular fee is 827 RMB.
Main documents for obtaining a tourist visa
Your valid passport and a copy of the front page
Form filled in on the site visa.kdmid.ru
One color photograph 3.5 x 4.5 cm

Tourist invitation (original).

Ticket with confirmed dates of entry and departure from Russia
Obtain a tourist invitation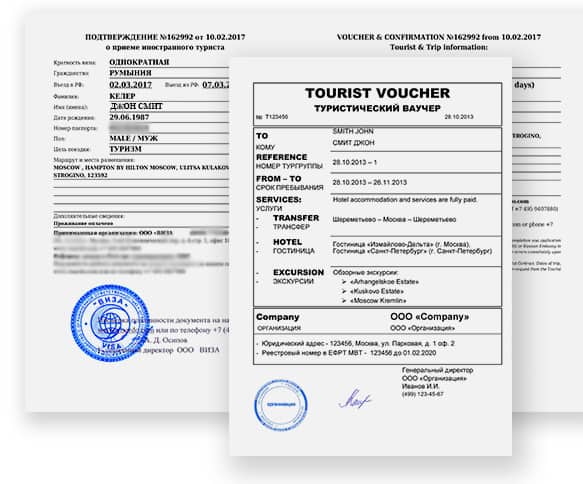 Order a tourist invitation from us, and we'll prepare it for you in one working day. The invitation will be issued by the official Russian tour operator and will contain the dates of your trip to Russia, your passport details and the hotel of your stay in Russia. If you don't plan to book a hotel, or if you want to do it later, we'll provide you with a reservation in one of the hotels in Russia for the period of your visa application process.
Russian Business Visa from China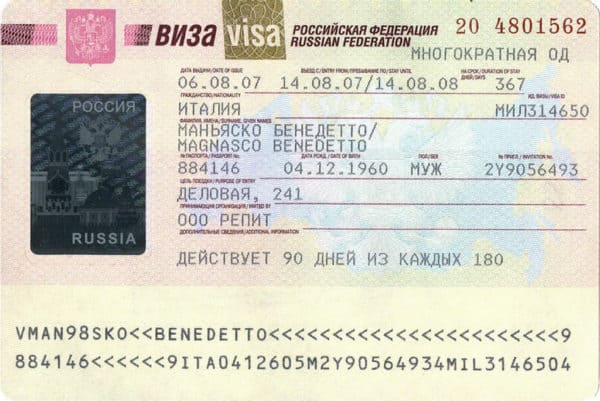 If the purpose of your visit to Russia is a business trip for negotiations or business transactions, you will need a business visa. It is issued for a period from 30 days to one year, with single, double or multiple entry. The consular fee for multiple business visa to Russia will be 1034 RMB.
Main Documents for Business Visa:
Your valid passport

Form completed on the site visa.kdmid.ru/

Two recent color photographs 3.5 x 4.5

An invitation from the territorial authority of the FMS of Russia.
Obtain the electronic business invitation eFMS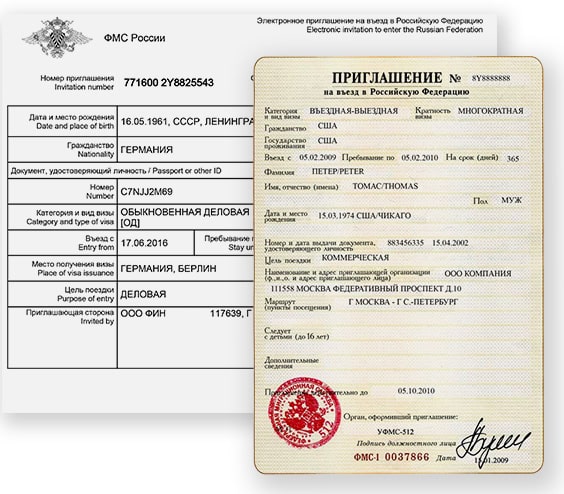 With the introduction of the system of electronic invitations in 2015, the FMS process has become even simpler and more convenient.
Private Visa
For private guest visits to friends and relatives in Russia, you can apply for a private visa. With a private visa, you can stay in Russia for up to 90 days with a single or double entry.  Before submitting visa documents, you need to contact the inviting party in Russia and ask them to write a request at the local federal migration service office.
Main Documents for Private Visa:
An invitation issued by the Russian Ministry of Foreign Affairs or the relevant Russian Federal migration service. This invitation is granted on the basis of a request from: A citizen of the RF, a foreign citizen with a residence permit in Russia, a legal body.

Your valid passport and a copy of the main page
Form completed on the site visa.kdmid.ru
In order to make a private invitation, the inviting party must submit to the regional Authority of FMS:
Income statement
Letter of Guarantee

Bank Statement

Pay state duty of 800 rubles
We want to warn you that the application for a private visa is a complex and long-term process, so we recommend a tourist or business visa instead. If you have decided to receive a private invitation, you can do so by asking the inviting person to submit a petition to the FMS office of the RF at the address of his registration.
Addresses of visa centers and consulates of Russia in China
Visa centres
Beijing
Office M, Floor 10th, Business Center Oriental Kenzo, Dondzimenvaj 48, District of Dongcheng
Email: info.pek@russiavisa-china.cn
Phone: 010-64669122
Shanghai
4th Floor, Mall Dzhiushi, str., Middle Sichuan, 213, Huangpu District, Shanghai, 200002 China
Phone: 021-65965805
Email: info.sha@russiavisa-china.cn
Shenyang
2nd Floor, Industrial Bank building, str. Ujenhua, 77, Heping region, Shenyang, 110004 China
Email: info.shy@russiavisa-china.cn
Phone: 024-23988808
Guangzhou
9th Floor, Goldsan Building, str. Tijujsi, Tjanhe District, Guangzhou, China, 510620
Email: info.can@russiavisa-china.cn
Phone: 020-38761241
Site:  www.russiavisa-china.cn/Russian/contact-us.html
Consulates of Russia in China
Beijing
100600 BEIJING, str. Dongzhimen Beizhongjie, 4. Email: info.pek@russiavisa-china.cn
Phone: (+86 10) 6532 1991, 6232 1267
Email: visa@russia.org.cn
Shanghai
200080, Shanghai, str. Huanpulu 20.
Email: shanghai@mid.ru
Phone: (+ 86 21) 6324 8383, (+ 86 21) 6324 2682
Shenyang
China, 110003, Liaoning Province, Shenyang, R-Mr. Heping, Nanshisanvjejlu str., bld. 31
Email: info@rcsy.org
Phone: (+ 86 24) 2322 3927
Guangzhou
China 510623, Guangdong Province, Guangzhou, Mr Pearl Xincheng, Linczjan Dadao str., bld. 3, centre "Fachzhan Chzhunsin", Office 26a
Email: guangzhou@mid.ru
Phone: (+86 20) 8518 5001, (+86 20) 8518 5002
Hong Kong
Hong Kong, Mr. Wanchai, Harbour Road str. 30, San Hung Kay, 21st Floor, apt. 2106-2123
Email: rusvisahk@ya.ru
Phone: (+852) 2877 7188, (+852) 2877 5024